Amana Air Conditioner Installation in the Denver Metro Area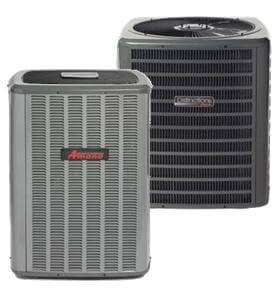 When the summer heat arrives, the comfort of your home is a crucial part of enjoying life. Don't neglect your indoor air quality. Consider the installation of an Amana brand central air conditioning system in your home. Here at Day & Night Mechanical Solutions, we provide quality Amana air conditioners installation in Denver and surrounding areas. If you are considering this top-notch system, give us a call for more information.
Amana brand central air conditioning systems are efficient and built to last. They come with industry-leading warranty protection. And, when you trust us with installation, they will be backed by our quality workmanship too. An Amana air conditioner can aid you in cutting down on energy costs due to their high efficiency. Your wallet and the environment will thank you.
Amana A/C Models
Amana air conditioners come in a variety of styles and sizes. Choosing the right one for you will depend upon budget, space restrictions and your overall cooling needs. We will be happy to assess all of these items for you and discuss each model type in detail with you until you feel comfortable with your decision.
Many of the Amana models come with what we believe to be the best industry warranty available. This warranty on certain units covers your compressor with a Lifetime Unit Replacement Limited Warranty. If your compressor on these models ever fail, a new condensing unit will be provided to the original purchaser of the central air conditioning system as long as they live in the same single-family residence. And, all the remaining parts are covered by a 10-Year Parts Limited Warranty. All Amana products are carefully scrutinized for quality assurance.
If you are interested in a model with this warranty, please speak to one of our representatives. We will help you choose the right Amana A/C unit for your home.
Premium Installation Services
An air conditioning system is only as good as the installation behind it. If your new Amana air conditioner is not installed to the highest industry standards, it could greatly affect the system's efficiency and lifespan. Call us for the best installation of Amana air conditioners in Denver and surrounding areas. We know how to get it done right the first time, and look forward to serving you!