Air Conditioning Installation in Denver Metro Area
If you are looking for an HVAC company to handle your home air conditioning installation in Denver, Boulder, Parker, Littleton, Brighton or any surrounding area, then please call Day & Night Mechanical Solutions. We provide the highest quality installation services and repairs. Our home air conditioning services are simply unbeatable in quality and affordability. We are the best A/C contractors around!
This summer, don't sweat it. Call the air conditioning experts.
Choosing the right system for your home
Purchasing a new air conditioning system for your home should not be a frustrating experience. At Day & Night Mechanical, our professional air conditioning contractors will aid you with all of the relevant information you need to make the absolute best choice for you and your family. We will walk you through the options available and explain each system's pros and cons. We have years of experience working with a variety of air conditioning systems, so we are experts at helping our clients make the best A/C choice possible.
When you are looking for a new A/C system we will take into consideration all of the following:
Your cooling needs
Energy efficiency
Your budget
Product warranties
The size of your home
Day & Night Mechanical performs all installations to the manufacturer's installation standards to ensure an accurate SEER rating and proper airflow is achieved.
Installing a New High Efficient Air Conditioning System?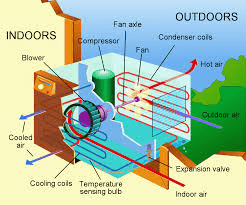 If you currently have an outdated air conditioning system in your home, it may be time to upgrade to a more energy efficient system. You could, for example, consider a more environmentally friendly ductless mini split air conditioning system. In this system, the condenser is outside, but the cooling heads are placed indoors. It uses less energy, but provides fantastic temperature control for your home. You can also have a controllable thermostat installed so that you don't have to use energy when you leave your home.
Consider The Benefits:
New technology has enabled the creation of air conditioning systems that use very little electricity compared to older models. By investing in a new, higher efficiency air conditioning system, you will save money on electricity bills each month. Air conditioning replacement is an investment in your home. A new system will increase the value of your home as well as reduce your monthly operating expenses, making your home more comfortable, attractive and affordable.Call today and ask about how a new air conditioning system in your home can save you money. Our installation services are top notch!