Ductless Air Conditioner Installation in the Denver Metro Area
Quality Ductless Mini-Split Air Conditioning
If you are looking for an upgraded air conditioning system for your home, you should consider a ductless A/C system. This system is energy efficient, aesthetically pleasing and easy to install. We provide quality ductless (mini-split) A/C installation in Denver and all surrounding areas (including Boulder, Brighton and more). Call us today if you are interested in learning more about this energy efficient system. We will be happy to assist you with your questions and help you pick the perfect HVAC system for your needs.
How does a ductless or mini-split A/C system work?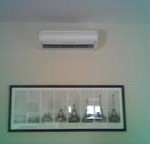 Similar to a conventional HVAC system, a ductless system locates the compressor and condenser outside of your home. The difference is that instead of needing a basement or attic located evaporator unit and bulky ductwork, a ductless system uses a thin copper tubing pipe. This thin pipe pumps refrigerant directly to wall mounted blowers inside.
These units that are mounted inside are small, aesthetically pleasing blowers that are designed to blend in with your home's decor. A wonderful feature of many ductless HVAC systems is that they can work in reverse during the winter. They absorb heat from the outside air and move it indoors to heat the building.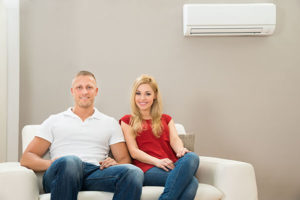 How does installation of a ductless system work?
One of the reasons mini-split A/C systems are often chosen is because of their easy installation process. They do not require ductwork which removes the most invasive component of a normal A/C system installation. Copper tubing is simply run through a small 3-4 inch opening in the wall or ceiling. This then connects to the indoor and outdoor units.
Fujitsu Mini-Split Air Conditioning
Here at Day & Night Mechanical Solutions we highly recommend the Fujitsu mini-split air conditioning system. When you have this ductless A/C installed in your home you will enjoy the following benefits:
Quiet operation: The wall mounted systems come equipped with a "quiet mode" which function with an extra quiet fan speed.
Remote control: This system comes with a wireless remote to place comfort control at your fingertips.
Washable panel filter: These mini-split systems come with a washable panel filter which allows you to remove mold and dust from your indoor air.
Smart system auto mode: When you initially turn on your system the fan speed will set to high to reach your desired temperature as quickly as possible. But as the room begins to reach the right temperature the fan speed will automatically adjust downward to conserve energy and lower noise.
The Fujitsu mini-split A/C system is a wonderful product for any home looking for an energy efficient, easy install air conditioning system. Please feel free to call our expert technicians today to find out if this system is right for your home.
For the best in ductless A/C installation in Denver, Boulder and surrounding areas, contact Day & Night Mechanical Solutions.Ductless mini-split air conditioning systems are an aesthetically pleasing, energy efficient HVAC solution you can count on! Count on us for all of your air con needs.