Ductless Heating Installation & Services in the Denver Metro Area
Unit Heaters and Mini Split Systems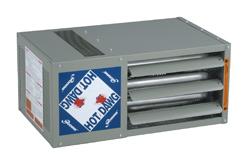 Do you need a unit heater for your garage or workshop? Or perhaps a mini-split heat pump (ductless heating) for your home? Talk to us at Day & Night Mechanical Solutions. We provide quality ductless heating and unit heaters installation in Denver. Unit heaters are the perfect solution for spaces without ductwork already in place. Or they can be used as a supplemental or more efficient version of heating in a large space with an outdated duct heating system. No matter what your reason for choosing a unit heater, you will find that these systems keep your workshop or garage comfortable year round.
What is a ductless system?
A ductless heating system does not require the use of air ducts. This is one of the reasons it is appealing as a new install. It does not require extensive installation and can be used in almost any setting. The system uses highly efficient zonal heating by allowing you independent control over each area. Traditional duct systems cannot control zones in the same way.
We provide both unit heaters and mini split heat pumps. Unit heaters (like the one seen above) are appropriate for garage settings or workshops that need to be kept warm throughout the winter months. Ductless systems for the home employ a mini split heat pump.
What are the benefits of a ductless heating system?
Ductless heating systems are wonderful for residential, commercial and industrial use. A ductless unit heater can keep a garage warm enough to use year round. And a mini split system for the home can provide all of the following benefits:
Increased comfort: Because ductless systems distribute warm air more efficiently and evenly than their older counterparts, they make your indoor area more comfortable during even the coldest months. They are especially perfect for homes with open floor plans as one single indoor unit can heat an entire large living space.
Increased savings: Every month you will save countless dollars on your heating bills. This is due to the high level of efficiency of these systems.
Low-cost, hassle free installation: Ductless system installation is an easy process that can be completed in a matter of days. It does not require invasive ductwork, leaving your room unharmed aesthetically.
Cleaner indoor air: Ductless systems improve the quality of your indoor air. It will constantly circulate fresh, healthy air throughout. And it will not circulate dust that has built up in ductwork.
The Hot Dawg Ductless System
If you are interested in a ductless heating system, talk to us about the options available in your area. One preferred ductless system is the Hot Dawg unit heater. This unit is perfect for garages, workshops and warehouse type areas. It can be installed just one inch below the ceiling.
It features the following benefits:
Extremely quiet operation
Uses propane or natural gas
Low-profile design that blends in
Lightweight product with easy install
If you are ready to explore the option of ductless heating, call our expert HVAC techs today! At Day & Night Mechanical Solutions we provide unit heaters and ductless heating installation in Denver.