What are ductless mini-splits? Why should I install a ductless mini-split?
Mini-splits are heat pumps or air conditioners that eliminate the need for bulky ducting and furnaces/air handlers that take up space in our homes. They work by using thin copper tubing that pumps refrigerant from an outdoor condenser directly to an indoor unit that blows conditioned air into the space. In the summer it transfers cooling into the home and in the winter the heat pump run in reverse to transfer heat into the home. Over the last several years, brands like Fujitsu have created units that will heat down to -15 degrees Fahrenheit with efficiencies up to 20 Seer! Each room has its own indoor unit and each room can be set to a different temperature creating personalized whole-home comfort (no more fighting over the thermostat).
Do you have a radiant heat boiler system and need some cooling? A mini-split is a great option. Some brands feature cooling only options that can cool the rooms you use to keep you comfortable in the summer. The installation process generally takes one to two days and costs less than a ducted system.
Master bedroom too hot in the summer, kids rooms to cold in the winter? Although there are many advances in furnaces and air conditioning systems, replacing them will help but it is not always a solution. The culprit is usually the existing ductwork in the home and without exposing walls and tearing up flooring, fixing it might be more then it is worth. Installing a mini-split system might be your solution. With the availability of installing up to 4 indoor units on one outdoor unit, we can potentially correct your uneven temperature problems in a single day without having to remodel your home. Call us today to see what options are available to help your situation.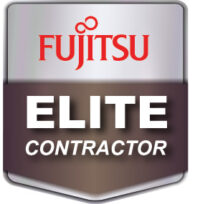 At Day & Night Mechanical Solutions you can be sure you are getting the best service and installation available. Our factory-trained service technicians and installers are the best around. Because of our training and our expert installation process, we are one of the few Fujitsu Elite Contractors in the Denver area. Being an Elite Contractor, we can also offer the best warranties with up to a 12-year parts/compressor warranty. Call or click to find out more information and see if a mini-split is right for you!
Fujitsu Mini-Split Air Conditioning and Heat Pumps
We highly recommend the Fujitsu mini-split air conditioning and heat pump systems. When you have this ductless A/C installed in your home you will enjoy the following benefits:
Quiet operation: The wall mounted systems come equipped with a "quiet mode" which function with an extra quiet fan speed.
Remote control: This system comes with a wireless remote to place comfort control at your fingertips.
Washable panel filter: These mini-split systems come with a washable panel filter which allows you to remove mold and dust from your indoor air.
Smart system auto mode: When you initially turn on your system the fan speed will set to high to reach your desired temperature as quickly as possible. But as the room begins to reach the right temperature the fan speed will automatically adjust downward to conserve energy and lower noise.
The Fujitsu mini-split A/C system is a wonderful product for any home looking for an energy efficient, easy install air conditioning system. Please feel free to contact our expert technicians today to find out if this system is right for your home.
For the best in ductless A/C installation in Denver, Boulder and surrounding areas, contact Day & Night Mechanical Solutions. Ductless mini-split air conditioning systems are an aesthetically pleasing, energy-efficient HVAC solution you can count on! Count on us for all of your air conditioning needs.