Heating Systems Service, Repair, and Installation in the Denver Metro Area
When you're in the market for a new heating system — or you need repairs on an existing one — the process should not be frustrating.Our professional heating contractors at Day & Night Mechanical will provide you with everything you need to know to make the best choice for you and your family and advise you on all your decisions.
We perform all installations to the manufacturer's standards to ensure an accurate AFUE (Annual Fuel Utilization Efficiency) rating and proper airflow.
Pictured is a graphic that shows where air is commonly leaked both into and out of your house. We'll take care of all of those issues for you by installing a higher-efficiency heating system that will save you money in gas bills every month. A new heating system will also increase the value of your home.
For more information on installation of heating systems in Denver, Brighton, Boulder and the surrounding area, contact Day & Night Mechanical Solutions, Inc. We're the pros to call for all heating repairs and services and can work on most models, including Rheem, Amana, York and Carrier furnaces. We'll fix the problem for you!
Other heating options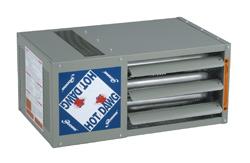 At Day & Night Mechanical, we offer other types of heating systems (besides furnaces) that you may want to consider. We can install the Hot Dawg unit heater by Modine. It can be installed in residential or commercial buildings just 1 inch below the ceiling. The Hot Dawg uses natural or propane gas, and it is incredibly quiet.
We're the experts to call for everything you need to know about heating systems in Denver. Day & Night Mechanical Solutions works on most makes and models and can all of your questions about heating repairs and services. Call us today to get started on your job!