Tankless Water Heaters in the Denver Metro Area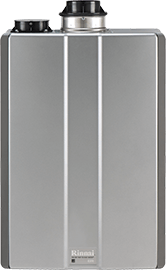 If you have ever been frustrated by a lack of hot water in your home, or struggle to balance scheduling of showers, laundry and dishes, then a tankless water heater might be the right solution for you. These innovative systems provide you with an endless supply of hot water. You can even simultaneously run a hot shower, laundry and do the dishes! No more hot water headaches, just pure comfort at your fingertips. Talk to us about the installation of tankless water heaters in Denver, Aurora, Brighton and all surrounding areas.
We recommend the following tankless water heaters and can help you pick from a variety of models:
Navien Tankless
Rinnai Tankless
Vesta Smart Technology Tankless
How do tankless water heaters work?
Tankless water heaters function without the normal tank associated with a water heater.Instead, when the need for hot water arises, cold water enters the tankless system from an inlet pipe at the bottom of the unit. Then a PC board is told to activate an ignition.
A fan turns on at this point to provide oxygen to the burner. Once a flame is present the igniter stops and water is heated as it passes through the coils of a copper heat exchanger. The beauty of a tankless device is that the gas valve and blower automatically adjust the amount of gas and oxygen used depending on the heating demands. When the demand is small, the tankless heater will use a very small flame with less gas. If the demand is larger, the flame is capable of expanding across the entire burner to heat a larger amount of water.
Once you turn off your shower or washing machine, the cold water will cease entering the tankless heater and the flame will diminish.
Benefits of a Tankless Heater
Tankless water heaters are wonderful solutions for many homes. Their superior technology allows you and your family to enjoy the use of hot water when you need it, without wasting energy. The following are all benefits of installing a tankless hot water heater:
Energy Efficient: Tankless heaters are actually more energy efficient than their conventional counterparts. Many makes and models will use up to 40% less energy than a traditional tank. They only operate when hot water is needed. This eliminates the need for a storage tank that heats and reheats water.
Size to Fit Any Space: Tankless water heaters come in a wide variety of sizes. You can choose the right size for your home and customize it for your efficiency needs.
Easy to Fix: Tankless water heaters allow you to easily replace parts as they wear out, instead of needing to replace entire systems.
An HVAC Team You Can Trust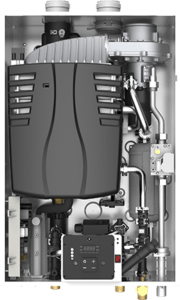 When it comes to replacing a component of your HVAC system, you need an HVAC team you can trust. We are here to help you make the best decision for your home and family. We will take into consideration yourhome's hot water needs, your budget and your future plans to help you decide if a tankless hot water heater is the right solution for your home.
If you are interested in tankless hot water heaters installation in Denver, Brighton, Littleton and all surrounding areas talk to the experts at Day & Night Mechanical Solutions today!